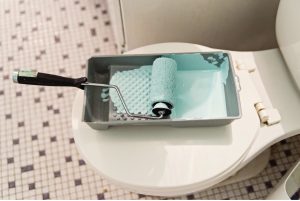 The bathroom is a special and important part of any home. When it comes to bathroom décor, most people focus on the paint color but the TYPE (not just brand) of paint matters just as much.
It's not enough to buy just any type of paint for a bathroom. Take the characteristics of the room into account.
Generally, bathrooms are rather wet, thus, are prone to humidity, steam, and the risk of mold.
Seek some guidance from experts on what type of paint for bathrooms you should use before choosing a color and finish.
We've got some guidelines for you to consider here –
Go for a paint that is resistant to wet conditions.
Bathroom paints are specifically designed to resist constant wetness in such rooms. They have moisture resistance, anti-grease, and anti-stain characteristics.
They are easy to maintain and can be washed as many times as needed (with the soft side of a sponge).
Popular options here are – 
This is paint that has been diluted with white spirit. It doesn't flake easily and it is resistant to water. Unfortunately, it has a strong odor and is likely to release harmful products.
Acrylic paint (water-based paint) is durable, water-washable, and almost odorless. It is widely recommended by professionals for its good hold and low toxicity. It's even cheaper and easier to maintain than glycerol paint.
It's only slightly water-resistant, but you can add a waterproof coat by sealing after painting.
The Perfect Bathroom Finish
This is one of the most important things you should consider before choosing the right paint for your bathroom. Again, it boils down to the dampness of bathrooms.
There's Flat, Eggshell, Gloss (high-gloss and semi-gloss), and Satin. Shinier finishes are generally preferable as they're resistant to moisture and easier to clean, unlike flat finishes.
Let's help you figure out which would be best for your bathroom.
This imparts a good matte paint finish that is great at hiding the imperfections of a room. However, it's not recommended for use in a bathroom, as it won't fare well with all that moisture.
This is resistant to water splashes. It's also washable. The satin appearance imparts a soft finish, sadly, it reveals the flaws and roughness of poorly prepared substrates.
However, it is recommended for bathroom paints due to their sheen and durability. Just be careful to wash and prepare the parts of the room before painting.
Just like the satin finish, this is resistant to water splashes and washable. It offers a lacquered appearance for the supports (walls, ceilings).
Semi-gloss is good for most bathrooms. Plus, it's more toned down than a high-gloss finish. This high-gloss finish is difficult to use on large surfaces due to its excessive glossy appearance.
Good support for a good hold
For a wall painting to be successful, a couple of things are key. Firstly, the painting has to be without surface defects. Also, the paint job should last for a significant period.
The key to success is using the right paint and support.
That said, before painting or repainting a bathroom wall, it should be well prepared and cleaned.
If the old paint is blistered or chipped, it should be sanded and dusted. Cracks must be filled and any roughness plastered and sanded.
The wall must be smooth, clean, dry, and free from traces of grease. Don't hesitate to wash and sand the walls and the ceiling to do this.
Priming is essential before all house painting as it allows the paint to hold better and also provides a uniform final appearance.
You've seen just how much considerations to make before choosing the perfect paint for your bathroom.
With Fillo Painting on your project, that won't be necessary. We'll handle all the details and use the best paint for your bathroom walls. We offer excellent house painting services for all rooms – interior or exterior.
Give us a call at (770) 769-7941 or contact us at Fillo Painting for more information.