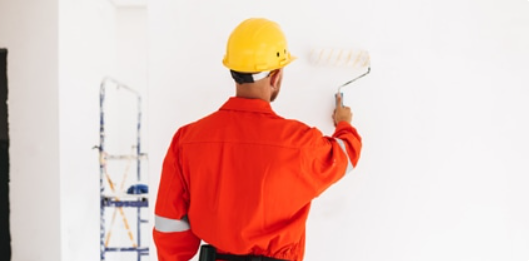 When it comes to a quality paint job, residential properties and commercial properties have their own, separate tools and knowledge background. This is due to many reasons from the purposes the space serves to the size, and those who utilize the space. Because of this, paint crews will typically specify whether they are experts in residential painting, commercial painting, or both. We dive into the differences between the two and how to evaluate which is right for your project.
Size of Project
Commercial projects are usually much larger in scope than residential projects. While residential work can include houses, condos, or other living spaces, commercial work focuses on larger projects like retail spaces, healthcare spaces, warehouses, or other industrial spaces. This requires much more manpower to get the job completed and more area to cover overall.
Painting Materials
The equipment that is needed to complete each job also varies. Imagine how large of an area commercial spaces take up and the different kinds of nooks and crannies that painters need to get to. While step ladders, drop cloths, and rollers may be sufficient for a residential job, it wouldn't suit the needs of a commercial space.
There are also different types of paints that need to be used for each project. Residential paints come in different varieties of glosses and sheens while commercial paints focus on types of surfaces like wood, concrete, or marble and prioritize durability.
Services Included with Painting
Have you ever considered the kinds of services that would pair with each painting project? Commercial contractors will usually offer additional services to help prep the space. Examples could include concrete repairs, masonry or roof coatings, pressure washing, or waterproofing. On the other hand, residential spaces differ and may only need some light construction work in order to be well prepped for paint.
Project Timeline and Management
Finally, the details of the project will differ depending on whether it's a residential or commercial property. Oftentimes residential properties can be done at any time and doesn't necessarily require the homeowners to be onsite. However, painting a commercial property requires working around the schedule of the business. These may need to stay open for customers or employees which means there's a smaller window of time to work with.
In addition, the management of these projects will differ because of the scope for each. Commercial projects will require everyone to stay on a strict schedule and budget. Residential painting has more of a relaxed approach since the focus is on the homeowner's satisfaction but dozens more factors are involved with commercial work including collaborating with many contractors to get the job done.
Looking for a professional painter in Alpharetta, Georgia? Contact Fillo Painting at (770) 769-7941 today and ask about our commercial painting services and residential painting services.