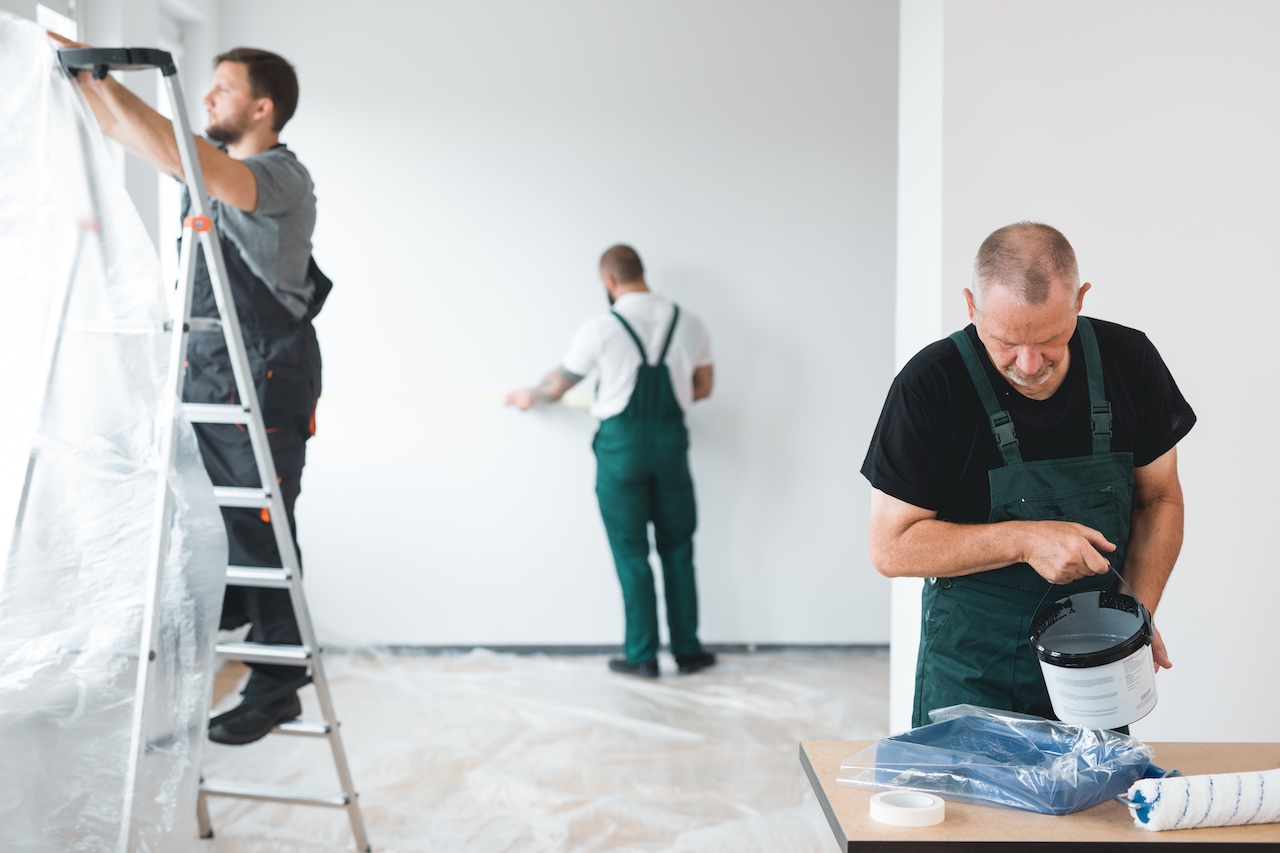 Home projects can be daunting and painting is no exception. Knowing whether or not to hire a professional painter is important for achieving your desired results without any surprises along the way — and we're not talking about the happy ones
Professional painters provide experience and expertise that DIYers cannot match. So, when should you skip the DIY and hire a painter?
When Your Painting Project Requires Professional Tools
Professional grade painting tools can make a major difference in the quality of the final product.
Typically, you'll require special types of tools if you're:
Painting a large exterior surface

Working with high or hard to reach spaces (e.g., ceilings, second story windows)
Professional painters will have access to power sprayers, airless sprayers, rolling machines, and other tools that are difficult for DIYers to obtain or use successfully. So if you plan on taking on a difficult project, you'll save more money and time in the long run by hiring a painter.
If Professional-Grade Paint is Needed
Hiring a painter means you'll typically have access to professional-grade paints and can help recommend the best paint for your specific project. This type of paint is often more durable and offers a longer lifespan than those found in local home improvement stores.
You'll typically require it if:
You expect to

repaint

the surface within a short period of time

The painting project is in an area with extreme weather conditions (e.g., high humidity, strong sun)

You're looking for a unique shade not available at your local store
Professional painters can help you save professional grade paint more than if you were to go out and buy it on your own. They can also help you get the most out of every gallon, so you don't waste paint.
If You Have an Unusual or Difficult Painting Project
This may be common knowledge, but professional painters have plenty of experience with a variety of odd and difficult painting projects, from outdoor siding to high ceilings. DIYers may struggle with these types of jobs — particularly if they lack the tools and paint grade materials that pros have access to.
In this case, it's always safest to leave it to the professionals instead of risking an ultimately more costly mistake. Professional painters are able to assess the complexity of a job, plan out their work, and get it done quickly and effectively.
When You Need Professional Advice
Professional painters can also provide advice on the best painting techniques and methods for your specific project. They can help you figure out which type of paint is best for a particular room, select the right sheen level, or even provide advice on how to make the most out of your budget.
When it comes to home projects, calling in a professional painter can be worth it — especially if you're trying to achieve a certain look or have an unusually difficult job. Painters with experience provide the expertise and tools necessary to get the job done right, while avoiding any unpredictable issues or major setbacks that can come with projects.
Trust Fillo Painting For Your Next Home Project
At Fillo Painting, we specialize in residential and commercial painting projects. Our experienced team of professionals is dedicated to helping you achieve your desired look without any surprises. Put your next home project into the trusted hands of Fillo Painting where we treat your home as we would our own.
Get a consultation today and prepare to be wowed!