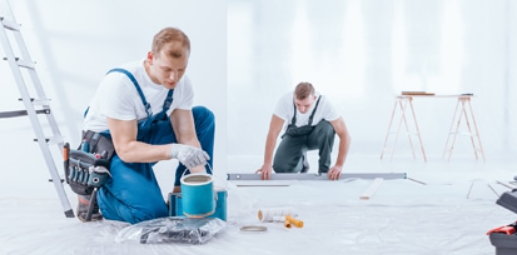 Like all other things, commercial spaces aren't immune to wear and tear or the damages that weather can cause. There are plenty of reasons we can think of for repainting your space whether that's due to maintenance or some type of major renovation or change. We cover some of the top signs your commercial space could use a new coat of paint.
Fading Paint
Faded paint or any other signs of aging is a good sign that you should consider a new coat. If it's been over half a decade since your last paint refresh and you've noticed the color isn't as vibrant as it used to be, a new coat of paint can do it a lot of good.
You may also notice peeling paint, cracks, or any other sort of visible disrepair. Clear signs of damage warrant a new coat and the same goes for buildings that have become too old to clean. Pressure washing can do wonders to keep the surface looking great but if you find that it's no longer working, it means your old coat is on its last leg.
Moisture and Mold
Moisture is capable of wreaking extensive damage on a building and, when left unchecked, can lead to mold growth, unappealing smells, and even unhealthy air. This can appear on exterior walls or be hidden away. If you see it on the outer walls, you can use a pressure washing to rinse it off and then repaint. Remember that paint ends up being a barrier to moisture and regularly repainting can help prevent mold and moisture problems.
Renovations
If you're going through a major renovation, rebranding, or business update, you can also consider adding new paint to the to-do list. Whether you're switching out your logo or designing new space, these changes look best and most refreshed when paired with new paint colors. The repainting gives you an updated look that looks professional and crisp.
Reselling
Those that are reselling their commercial or retail space may also want to consider repainting the building before it's placed on the market. This is a great way to attract buyers and improve the overall resale value of your space. Paint is an easy renovation compared to other projects and may be just what the building needs to entice potential buyers to take a look.
Looking for a professional commercial painter in Atlanta, Georgia? Contact Fillo Painting at (770) 769-7941 today and ask about our commercial painting services.