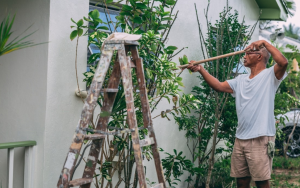 Painting your home's exterior is an excellent way to make your property stand out. If you're thinking about giving your home a new paint job, you'll have to prepare the exterior beforehand. One of the best ways to prepare your home for exterior painting is to clean all the surfaces. Washing your home's exterior will ensure your new paint color lasts longer and looks better overall. 
How Power Washing Can Help With House Painting
Even if your home already looks clean on the outside, a good power washing can help boost the benefits of a new exterior painting project. If you apply paint to your home without cleaning it first, the paint won't stick properly. You may notice some dark spots after you allow the paint to dry.  
Professional power washing can help remove dirt, grime, and mildew from your home's exterior and allow your home to shine after painting. What's more, power washing removes old, dusty paint from the siding, allowing the new paint to stick better.  
No doubt power washing allows you to make the most out of your new paint job and ensure it lasts as long as possible. House painting is an excellent way to add curb appeal to your property, especially if you're planning on putting it for sale on the market.  
Why Work With a Professional Power Washing Company?
No matter what your home's exterior material is, hiring a professional power washer is always the best choice. Even the most experienced DIY enthusiasts still struggle to create the same outcome as the pros. Here are benefits of working with a professional power washing company: 
Consistent Quality
While it may seem easy to assemble the tools you have and wash your home, it's hard to match the quality the pros bring. Professional power washers have a wide variety of tools to make a home look brand new after each wash. The hoses professionals use are roughly 50 times stronger than your average garden hose. As a result, they can remove all compounds effectively.  
Reduced Damages
Washing your home's exterior can be a risky business if you don't have the proper tools and experience. You put your home's siding at risk if you try to use a normal hose and the wrong cleaning solution. Professional power washers have specialized equipment to ensure they can remove dirt and grime without causing any further property damage.  
Saves Time
If you've ever attempted power washing on your own, you probably know how time-consuming of a project it is. When you work with professionals, they know exactly what it takes to get the job done promptly and to the highest standards. You can sit back and relax while your home undergoes a complete transformation.  
Final Thoughts
Power washing your home not only helps with a new house painting project but also makes your home look spotless. If you're thinking about repainting your house, reach out to Fillo Painting Contractor for some of the best exterior painting Atlanta has to offer.  
We're also ready to help with any of your interior painting needs and other home services, such as flooring and roofing. You can call us directly at (770) 796-4880 or contact us on our website. We have a new online estimator and now offer virtual estimates too.