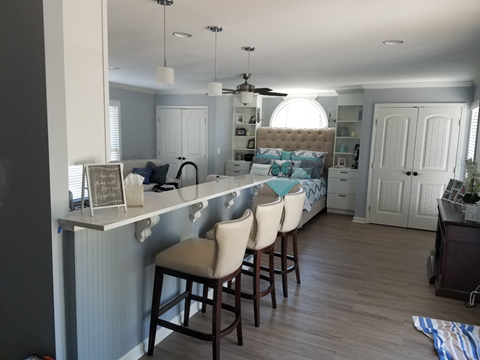 Picking out new paint colors for your home's interior can be fun but overwhelming. It's exciting to imagine all the options you have while also a bit daunting to realize you have complete control over how it'll turn out. We're happy to walk you through the process and talk through any choices you're sorting through. In the meantime, here are some tips to get you started.
Look to the Pros
There are people whose entire careers revolve around designing homes and making sure all the colors complement one another perfectly. There is plenty of interior paint information out there whether you decide to consult with designer or browse magazines and books. You can also look at paint companies or retail sites that give you good ideas on how to color your home. This gives you a way to visualize as well before deciding.
Implementing Color Theory
You may have seen a color wheel at some point, and this is the first step towards employing color theory. You don't have to be an expert to see how colors relate to one another. For example, red, yellow, and blue are primary colors and green, orange, and purple are secondary colors. You can start by experimenting with these combinations. You can always work with colors across from each other or right next to each other. There are lots of options. If you need something to picture it's a good idea to pick out paint swatches and bring them home to look at in your space. If you don't have access to space, it's a good idea to create an idea board and see how the colors complement each other.
Mix Your Neutrals
If you decide to go with neutral tones in your area, you can still mix it up in a way that is creative and gives your home more of a personality. You could incorporate different patterns with neutral colors like stripes or incorporate cream or lighter colored ceilings to complement a neutral wall.
Take Inspiration from Outside
If there is one source of inspiration that is great to reference, it would be Mother Nature. There is a way that nature scenes and landscapes combine colors in a seamless and beautiful way. You can take note of the blues of the sky and pristine ocean. You could also look at the bright sunlight or calming green tones of the forest.
Looking for some professional interior painting help in Woodstock, Georgia? We'd love to help you choose colors for your home. Contact Fillo Painting at (770) 769-7941 today and ask about our interior and exterior painting services.