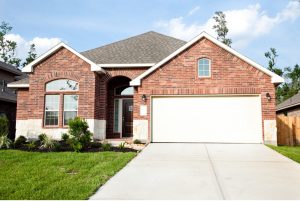 If you are a brick house owner, then you've wondered if you can/should paint your brick house. You're not the only one.
The painting of brick houses has been a pretty sensitive topic for some time now. While some homeowners believe in the painting of brick houses, others disagree.
Whichever you go with is purely your preference, but in this post, we'll discuss some of the benefits of painting a brick house.
The Benefits of Painting Brick Houses
One of the best ways to add to your home's curb appeal is exterior painting. Brick houses are no different. Other than upgrading curb appeal, painting a brick house also increases its market value.
Reduced Fading and Deterioration
Painting your brick house is one of the best ways to reduce fading and deterioration of the exterior brick.
Also, painting your brick house acts as a sealant, protecting your home from unfavorable weather conditions that could damage your wall.
A fresh coat to an outdated brick house can provide an instance face-lift to the house.
If your brick house looks outdated, repainting with the right colors can do a lot in making your brick house look beautiful.
Pro-tip – Brick walls typically appear reddish. Consider switching things up and going for a different color.
Gray works great here. While a softer tone would give you a classic look, a darker shade is more traditional. Either way, it'd look great on your brick wall.
It's Easier to Keep Clean
A brick house typically comes with holes that tend to trap dirt, making cleaning rather difficult. A fresh coat of paint looks cleaners. Plus, it makes cleaning a lot smoother and good.
Should you be concerned about painting your brick house?
Well, some people believe you shouldn't paint a brick house. It's normal to wonder why.
A major concern for them is that painting a brick house is permanent.
Granted, it's true. But there's an easy way around it – simply repaint when you're ready and it'll be good as new.
Another issue is that moisture can get trapped between the brick and the paint, which could potentially damage the paint over time.
However, you can prevent this by making sure your brick house is painted by professionals. And that's where we come in.
At Fillo Painting, we'll give your house expert treatment. We'll take extra care of your walls. Since moisture gets into the bricks through holes or cracks. We'll be sure to seal them properly before the paint is applied.
Also, applying primer on the brick wall before painting is a must if you want the paint to "hold". This wraps around the pores and ensures the paint adheres better to it.
But you shouldn't bother yourself with that. We'll handle it. Just give the go-ahead order on painting your brick walls and leave the rest to us.
If you are looking for a professional exterior painter or if you'd like to paint your brick house, you can reach out to us at Fillo Painting for more information.
Our services go beyond painting brick walls to even power washing to keep them clean. Beyond that, we handle other forms of exterior painting, interior painting, and even flooring installation.
Reach out to us at Fillo Painting or call (770) 769-7941 for more information.