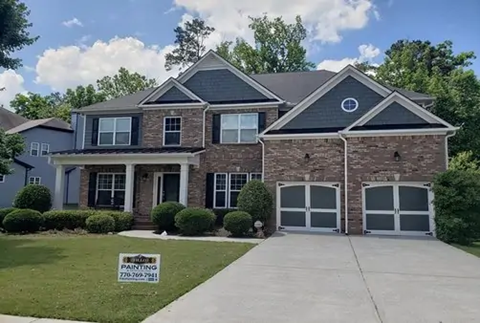 If you've been gearing up to sell your house, renovating and repainting may not be something that you expect to come up. After all, you're getting rid of the place so what is the purpose of repainting? Turns out, repainting a house before you sell can offer several benefits. These benefits could lead to higher selling prices or a quick turnaround after placing your house on the market. Depending on whether these factors are important to you, painting your house could be a good idea before you sell it.  
Curb Appeal
Making sure your house looks good for those who come after you is just as important as liking it yourself especially if you are in the market to sell. The aesthetic of the house can make a difference in whether a potential buyer is interested in purchasing your home. If they drive up to find peeling paint, discoloration, or an odd paint color that doesn't match the neighborhood, they may decide to pass on your home in favor of something that would take less work.  
First impressions are important. If you find that your home is looking outdated or that your paint is starting to wear out, a new coat may be what it takes to bring back its curb appeal and make it more marketable to the next homeowner. 
In addition to updating the exterior paint, you can also look into updating the paint on these features: 
Property Value
Adding a fresh coat may be just the thing your house needs to get you a bigger return on your investment. While it will cost you some out-of-pocket money to cover an exterior paint job, you can also expect to see the value of your home increase by a few thousand dollars. This can be very attractive to those who are looking to sell their homes because they know that the repainting can increase an offer on a house especially if the housing market is in a phase where it is competitive for buyers.  
Considerations
There are other factors to take into consideration before deciding on a repaint.  
Current Condition of Exterior Paint
If your home looks good after a thorough power wash and cleaning, you may be able to forego redoing the exterior. Since exterior painting works best after clearing the outside of dirt, dust, and debris, you can always commit to an exterior wash before deciding. 
Costs
The cost to repaint the exterior of a home can end up being a few thousand dollars. Moving can be a big expense on its own and spending on a new coat of paint might not be feasible or in the budget. 
Market Conditions
The housing market switches back and forth between being a sellers' market and a buyers' market. If there are currently more interested buyers than there are houses available, it may not make as big of a difference whether your house has updated paint or not. If you're in a sellers' market, potential purchasers of your home won't have much of a choice between your house and something else. 
Competition
Be sure to also check out other homes on the market before you make your decision. If similar houses in the area also have freshly painted exteriors, it may be a good idea to get on the train especially if this is what buyers will come to expect. On the other hand, if you're listing your home at a lower price without the new paint, it may be enough to offset the difference. 
Fillo Painting is a bonded and insured full-service painting company offering the highest-quality materials and services to residential and commercial clients at an affordable price. If you are looking to paint your home in the North Atlantic suburbs, check out our website or call us at (770) 769-7941.