With the harsh weather, many homeowners don't think of winter as a great time for painting. On the contrary, it's actually an excellent opportunity to tackle your next big project. Painters usually have flexible and open schedules during winter, and social calendars are often less demanding as well. During summer, kids are out of school, and families plan vacations. Winter is a much better option for interior painting, and your local paint contractors in Atlanta would be happy to help you transform your home.
Backdrop or Brick
A kitchen or living room backdrop is a great project to complete. It's not immensely time-consuming, but it delivers a great touch of style and splash of color. If you want to stick with the season, a pale blue is a good choice. It's not overly dramatic, but it still manages to catch your eye.
If you have brick in your kitchen or living room, it could be a wonderful choice as well. Bare brick isn't necessarily bad to look at, but it can be a bit bland. Homeowners often prefer to paint the brick instead. Neutral colors are typically chosen, but a little bit of color can work well. Consider your home's overall decor or the colors already present in the room. A white kitchen works well with blue, but a black-and-white kitchen might look better with red. Ask your painter for samples and select something that you know you'll love.
Crown and Base Molding
Your crown molding and base molding generally go unnoticed. One main reason is that so many people choose white and stick with it. Because it never changes, they overlook how big an impact these details can have. If you imagine your living room like a painting, you can think of the molding as its frame. A beautiful frame makes a difference.
As a general rule, most painters will recommend choosing something that isn't overly ostentatious. It can be tempting to select a bold color that will capture attention, but people tend to regret the decision later. Cool colors can be quite effective, and they blend well with winter. A light purple is bold but may not be overpowering. Otherwise, soft blues or greens are popular. It depends on whether you want to go with a rustic or modern look.
Faux Finish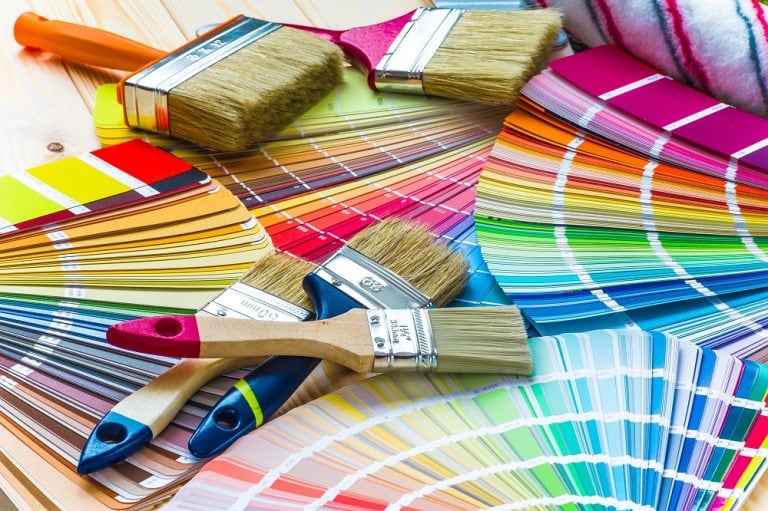 When you think of faux finishing, think of the texture. A faux finish or faux painting is used to imitate the look of another material, such as wood, stone, or marble. It isn't a time consuming as you might imagine, but the impact can be quite impressive. Transforming your drywall into marble or antique wood sounds amazing, and it truly is. If you don't want to completely redo the color scheme or design of your home, adding a faux finish is a small way to make a big change. Concrete-ing is used for a more industrial or modern appearance but graining and sponging are popular techniques as well.
Accent Wall
If you want to experiment with a bit of color, but you don't want to tackle a large project, consider an accent wall. It's actually a relatively simple process. You choose a single wall to work as the accent wall, and it's painted to contrast and pop. It draws attention in, but it doesn't entirely overpower the space. It's a great way to liven up an area without totally repainting the room.
Paint contractors in Atlanta are full of fantastic ideas to help you liven up your home. Speak with Fillo Painting at (770) 769-7941 to ask questions or learn more
.