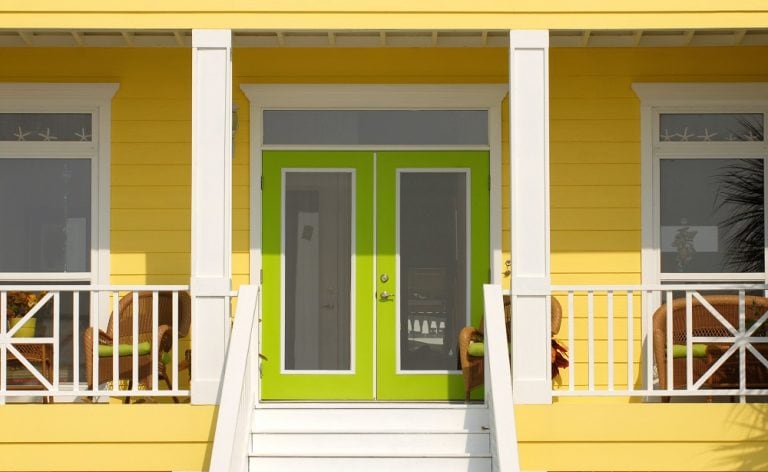 Well-designed porches are a reflection of the home-owner's sense of style and décor. A well-decorated porch enhances your curb appeal, so applying a coat of new paint is the perfect way to add more life to your porch and entryway. Your backyard deck or patio space provides you the perfect outdoor area to enjoy beautiful spring and summer days. It's up to you to create the perfect ambiance for your backyard space. Go with neutral and soothing colors for a calming effect. If you'd like your backyard to represent vitality, opt for bright colors that will make energize the space.
If you're at a loss for ideas on fun and innovative ways to refresh your porch with a coat of paint, this article is for you. Read on to find inspirational paint ideas to spruce up the outdoor areas of your home.
Colorful Vibes for Your Front Door
A great way to instantly refurbish your porch is to add new paint color to your front door. Painting your front door in a bright color that blends well with the overall porch color is a great way to make your entryway look dynamic. Use harmonious color palettes that will make your porch pop, without being too bold. A fresh coat of emerald green on the front door with remainder of the porch painted in shades of gray or beige is the perfect example of how to create a lively yet suave looking porch.
Find Seamless Color Palettes
To create a striking yet pleasing look for your porch area, it's important to choose colors of paint, furniture, and accessories that are in perfect harmony with each other. To create a soft and sophisticated look for your porch, consider a muted color scheme. Opt for beige or ivory paint on the walls or paint your patio furniture in shades of brown or tan. To add a decorative touch, add urns or throw pillows in shades of red, rust orange, yellow, and more. This color scheme creates a rusty décor theme—ideal if you like classic décor themes.
For a soothing touch to your porch, consider the very modern and stylish, gray and sandstone color palette. Paint the walls in a sandstone shade, and pair it with furniture in varied shades of gray. Silver and charcoal gray are the perfect paint colors if you'd like to paint your furniture. Add wall mirror frames and decorative pillows in beige and gray to complete this extremely stylish color scheme for your porch.
Find Colors to Match Your Natural Surroundings
Draw inspiration from the foliage and natural scenery around your porch to create an appealing color scheme for your porch. Lush green foliage blends in beautifully with beige walls and brightly colored furniture. Depending on the time of the year, if your entryway is bursting with a bed of bright flowers, paint your front door in colors to match your flower bed. Keep the walls in muted shades to make your porch have the perfect balance of color and sophistication.
Brighten your porch and curb appeal by giving your porch a fresh coat of paint. Contact Fillo Painting for residential painting in Roswell, GA, to see our selection of colors and start painting today.