In the past, giving a wall texture meant laying sticky, hard-to-remove wallpaper — a feature that's certainly gone out of style. Or, you could make a bold design choice and install ornate trim and wood paneling, but these features don't work for every home.
There's a trendy alternative for your home, a design concept that can help you add beautiful texture to your walls and make an eye-popping impact. This feature is called graphic paint. Rather than painting a single flat color, graphic paint takes advantage of shapes, patterns, and designs in multiple colors — all with ordinary wall paint! 
Here are some trendy graphic paint ideas that you could try in your home this season. A painting contractor near you can help you make these concepts a reality.
Mural with a Mood
Murals are beautiful, fun projects that give a room personality and depth. Every mural gives its surroundings a certain vibe, like peaceful relaxation or fun eccentricity. Kids love murals in their bedrooms and play areas, and murals are also great ideas for relaxed rooms like media rooms and breakfast nooks. Paint a mural on the wall with traditional wall paint, some deftly applied tape, and some paintbrush dexterity.
Wall-Sized Art
Current trends favor large, dramatic art that invites conversation. So why not paint abstract art in fun colors directly onto one wall? People typically expect to see large art around a mantle, above a bedroom headboard, and on one wall of a foyer. You can even paint the walls between your kitchen cabinetry, for a fun and unexpected alternative to backsplash! This design concept is very trendy because it combines two modern design features: statement art and clutter-free walls.
Personality Filled Patio
Graphic paint is a trend for exterior painting updates, as well. Personalize an outdoor patio with a large graphic wall painted with bright colors and fascinating patterns. Go tropical with floral patterns, or add sophistication with a herringbone pattern of cool grays and blues. Hang string lights in front of your graphic wall, so it adds texture and personality to your backyard day or night.
Outdoor paint jobs can be more intensive because the paint needs to be weather resistant, so consult with home exterior painting services for hardy, long-lasting paint.
Funky Accent Wall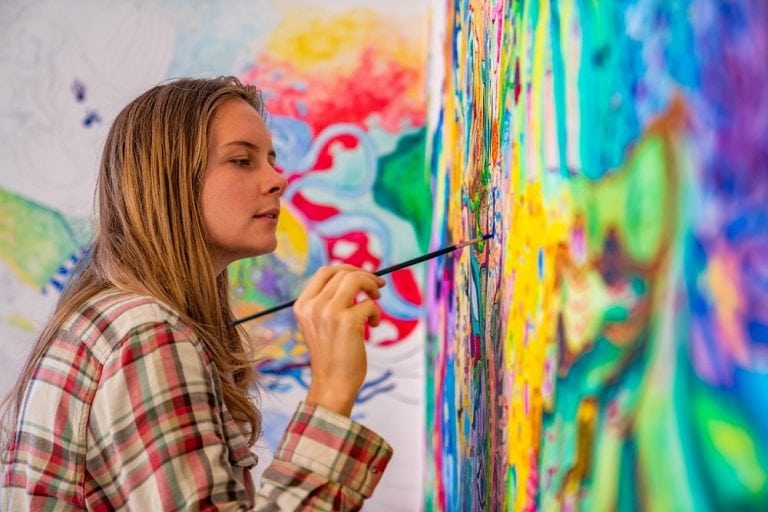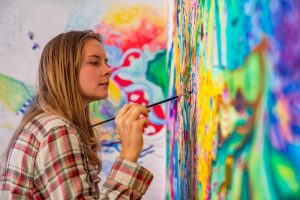 Finally, graphic painting can be used to add a simple, understated, but effective contrast to any room. If a room feels too dull — a common problem with dens and dining rooms — paint an accent wall with a simple striped or checkered pattern for a powerful contrast. Too many neutrals in a room? Choose to paint a graphic wall in complementary but unexpected colors, taking advantage of the subtle color notes in your current wall paint, furniture, and decor.
Graphic painting can be a tough job if you don't know what you're doing. Thankfully, you can leave graphic painting jobs in the hands of professional painting services, like Fillo Painting Contractors. We specialize in home interior and exterior paint jobs, and there's no job too complex for our talented team. Call us today to find out why we're the most trusted paint contractors in Johns Creek, especially for those who want to stay on the cutting edge of home design.