Fall is a season of warmth and comfort. There's so much to love about fall, such as the crisp fall leaves and the first days when you can turn on the furnace and fireplace. The colors associated with fall reflect the changes in nature. Trees are alight with changing, fading leaves—colors like red, brown, and orange are dominant. Foods that are popular in the fall, like cinnamon and nutmeg, as well as ripening produce, like pumpkin and figs, inspire the colors of autumn design.
How can you best decorate for the fall season? Don't just hang or put out cutesy decor indoors. Embrace the best aspects of all with the help of professional house painters. Interior painting can spruce up your home and refresh any room. Set a more elegant tone, add a comforting vibe, and enjoy the beauty of fall indoors. Here are some of the best fall color palettes for your home.
Burnt Orange and Gray
Burnt orange can look summery and bright. However, if you balance bright burnt orange with mature gray, you can tone down the color and make it look warm and sophisticated for fall. Paint the walls of any social room like the living or dining room burnt orange, then paint your window frames, trim, and an accent wall a deep, charcoal gray. The combination will be inviting and comfortable, while also mature and sophisticated, just like the best fall fashion.
Marigold and Natural Wood Finishes
Ask an interior painting service company to paint your home marigold, and you might be shocked by its initial appearance. It's a bold and natural yellow, similar to yellowing autumn leaves and flowers. But when paired with natural wood finishes, marigold is beautifully mature. Flooring, decorative trim, and wood paneling finished in stately oak and pine bring out the elegance of marigold and tone down its eccentricity. The balance of marigold walls with natural elegance of wood make your home look like the most welcoming place on the block. Decorate with bright, rustic décor for a comfortable but refined theme.
Peach and Dark Neutrals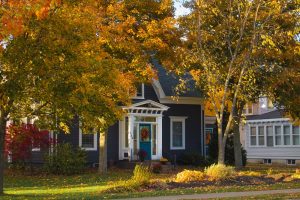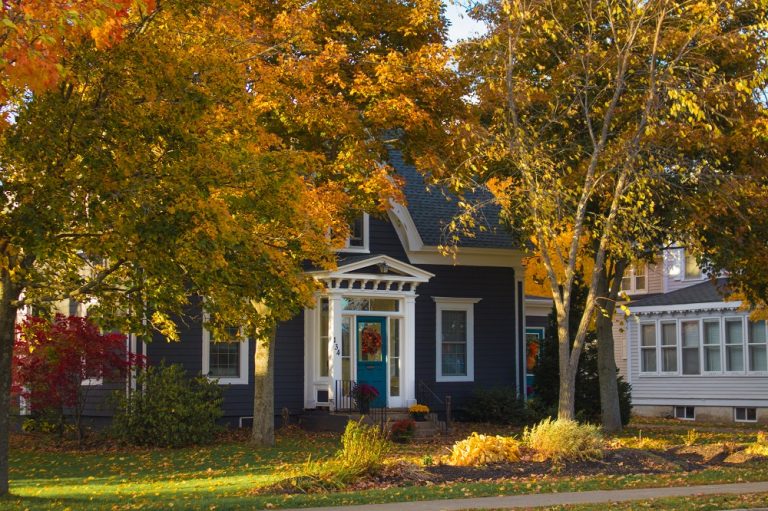 Peach is a very balanced autumn color on its own. It's warm and red but with soft white and beige undertones that keep it calm. The pairing of peach wall paint with dark neutral decor forms a beautiful color palette. Dark neutrals include gray, navy blue, black, chocolate brown, as well as natural walnut finishes. Balancing dark and light can emphasize the most beautiful and unique architectural elements of any room, like a high ceiling, beautiful windows, and elegant flooring. Peach is a great bedroom color because of its calming positivity.
Berry and Gray
Berry is a gray-purple-red color that's mature and sophisticated. Its muted tone looks excellent with metallic grays of all kinds, and can help bring out metal accents in furniture, window frames, and even appliances. While you wouldn't expect berry to be a fall color, its similarity to fruits and wines gives it a festive appearance that's very welcoming and stylish all year-round. Its similarity to fall foods make it a great paint for kitchen and breakfast nook walls.
If you're looking for the best color palettes for your home, get in touch with local interior and exterior painting services. Fillo Painting Contractor offers the best color design advice and skilled home painting services in Canton, GA. A great application means better-looking, longer-lasting paint, so always leave paint jobs to the professionals.