Your bathroom is more than a place where you freshen up every morning and wash up in the evening. It's a place where you can enjoy the luxury of a nice bath. But if your bathrooms feel anything less than luxurious, maybe some design changes are in order.
While you could invest large sums of money into dramatic remodeling, like changing appliances or installing expensive materials like marble, the best way to enhance your bathrooms without paying an arm and a leg is to paint. Painting is your chance to change the tone and theme of a room. Believe it or not, simply changing the color of your walls can make a huge difference in the look and feel of any bathroom.
Interior painters recommend that you try a fresh coat of paint for your bathrooms. These are some of the top paint colors to try this year.
Ocean Palette
An ocean palette can make your bathrooms look as fresh and vibrant as the shore. Try mixing up ocean blues and greens with sandy tones like beige to make your bathrooms feel calming. Colors like Sherwin Williams Quench Blue perfectly blend simple elegance with the relaxing colors of the shore. Blue has been proven to calm the mind and help you destress, which is exactly how your home bathrooms should make you feel.
Crisp White
You can't go wrong with a crisp neutral like white, especially if your bathrooms have a dark vanity or dark flooring. Colors like Benjamin Moore Simply White is a perfectly neutral white — not off white, light brown, or yellow white. This color is so refreshing and clean that your bathrooms will feel fresh and vibrant. For best results, paint a room Simply White that gets plenty of natural sunlight. Light will bounce off the walls and make your bathrooms look larger. That's because white recedes from the eye and opens up your bathrooms to amazing possibilities.
Effects
You don't just have to choose flat paint either. You can combine color palettes — like the ocean palette above or a classic pairing of golds and neutrals — with various painting effects. Try painting accent walls, stripes, a highlight color around your vanity, or even painting unfinished features like your vanity or cabinetry. Try mixing a simple gray with Sherwin Williams Mint Condition for an eye-popping variety that works perfectly in a small half bath.
Choose a Professional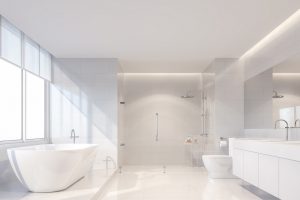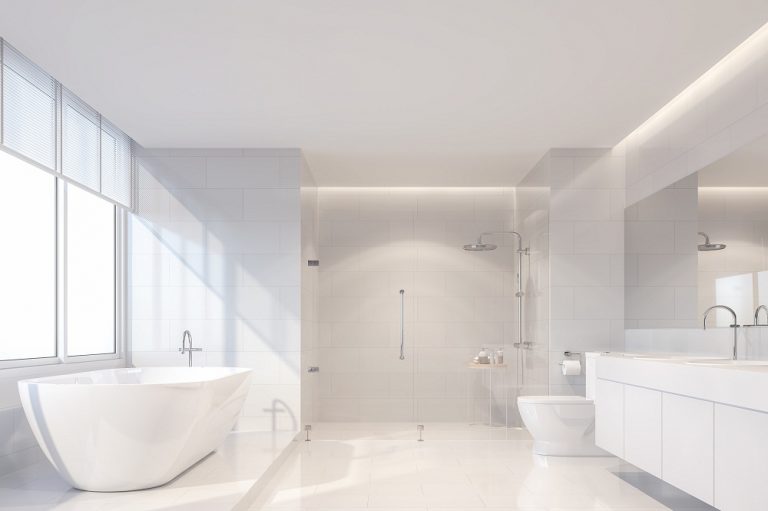 These are just some of the best ways that paint contractors recommend you add style and luxury to any bathroom. Don't forget that painting is a great way to repair flaws like chipped or water-damaged paint — common problems in home bathrooms. If you don't have backsplash above your sink or if you have bare walls around a shower, repainting soon may be a necessity.
Whatever your painting needs may be, rely on a trustworthy painting company in Alpharetta for a long-lasting, water-resistant, and gorgeously refreshing paint job.
If you're asking yourself, "Where can I find great painters near me?" look no further than Fillo Painting Contractors. We offer the best home painting services around, with a stunning portfolio of successful paint jobs and great prices for our work. Whether you want to refresh a single room or want to redesign all of your home bathrooms with the above inspiration in mind, call us for a paint job you'll absolutely love.