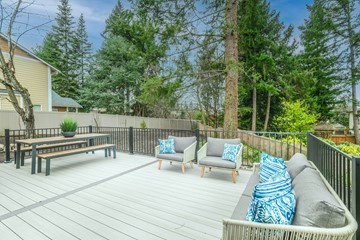 A well-designed porch is a necessity for a long, hot summer. Fillo Painting knows that there is more to an outdoor deck than simply being a place to gather. You want it to look the part as well!
The deck of your dreams may be timeless and classic or it may be trendy and eye-catching. Either way, you won't lack options  when choosing which color is best for your deck this summer.
Choosing Your Deck Painting Style
When choosing the best house painting options for your deck, there are several factors to consider. Since not all decks are built the same, some may require different amounts of prep work or coats of paint depending on your home's materials and construction.
You want think about the style of your house and what kind of deck would match. Certain aesthetics may fit a particular wood finish better than another. For instance, if your home has a Spanish-style tile roof or stucco exterior, a natural wood-colored bungalow porch may not be the best fit.
Color arguably plays the biggest role in completing the look of your porch. You may want something muted to highlight the furniture or color of your home, or you may want the color of the porch to offset the house itself. Whether you're planning on using your deck as a complementary piece or a showstopper, here are some colors and styles to consider:
Black
A black deck may not seem like the most exciting choice, but there is no denying its timelessness. Black is sleek and pops differently depending on the finish or hue. The latest design trend in black is making sure that the hue is rich enough (i.e., jet black) to stand in high contrast to whatever it is painted against. A deep, matte black porch may be what your house is missing to complete its modern aesthetic.
Mid-Toned Brown
The khaki pants of home design, mid-toned brown paneling pairs perfectly with almost any design or color scheme. It does this in a way that doesn't contrast as hard as black, adding a hominess to your deck. A nice honey-toned deck will look beautiful against the sunlight of a Georgia summer and pairs just as well with a navy home exterior as it does with a sky blue.
Reddish Brown
This staple of the Southwest works just as well in the Southeast, and that is partly due to how well it contrasts any green plants that you choose to have on your patio. The green and red hues contrast with each other incredibly well and are often paired against a neutral, sandy-colored house. A black or white home works just as well with this deck color option.
Gray/Beige
While the other colors on this list seem a little more striking, a beige porch can make your home much more recreational and inviting for gatherings. Gray and beige often blend to the point that they are indistinguishable. But the overall vibe, especially when matte, is great for a modern, beachy feel. Even if your house is on the darker side, a beige porch works wonderfully. While black may be too stark, beige is truly versatile.
Get Started Transforming Your Deck
Want help making the right choices in your house painting projects? Reach out to your local experts at Fillo Painting. We offer professional interior and exterior painting services in Atlanta. Talk to us today on our website or call 770-796-4880.