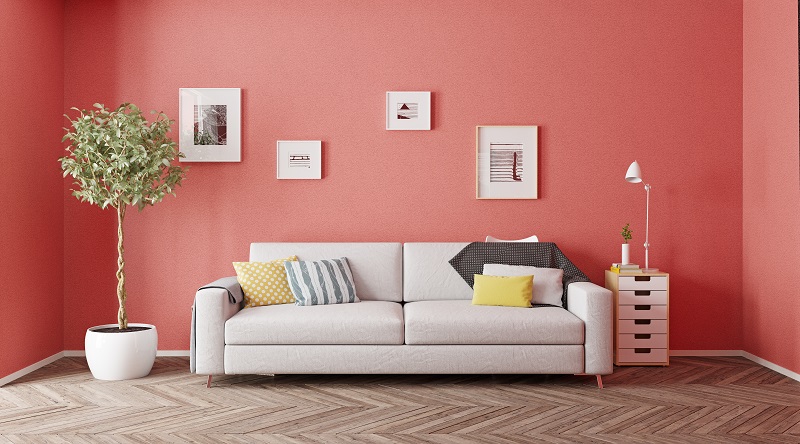 When you think of summer, vibrant hues and beachy vibes instantly light up your mood. Inspired by this fun and cheerful ambiance of the beautiful sunny outdoors, you'll be motivated to spruce up your home interior with pretty summer colors. Coral is one of the top trending colors for home décor this summer, and can complement virtually any décor style. Featuring pink and orange overtones, you'll find coral in many different shades to fit your taste.
Coral paint is reminiscent of bright, happy days. If coral paint is exciting to you, read on to learn how best to incorporate this pretty shade into your wall decor.
Accent Walls
A great way to use coral to enhance a room is to use it as an accent feature. Coral accent walls are great for living rooms, dining spaces, and bedrooms. A bold coral accent wall adds vibrancy and pizazz to a basic space. Use neutral-colored furniture and metallic accessories to highlight the wall's brightness.
Coral also pairs beautifully with rustic and wood-based living rooms by adding a pop of color. Coral juxtaposes well with rustic wood furniture and décor made from recycled or reclaimed natural materials. This blend of vintage and modern is a very on-trend look.
Coral accent walls can be extended to master and kids' bedrooms to imbue them with a free-spirited summer feel. A coral accent wall pairs well with gray or beige bedding accessories and décor items to create a tranquil bedroom theme with a pop of summery color. Ask your painter about using coral paint with fun textures or designs to add an element of playful fun, if you're considering using it for your kids' rooms.
Home Exteriors
Coral can also look great as an exterior paint choice. Add a simple splash of color to your porch by painting the door in a shade of coral. This choice also enhances the beauty of summer blooms in your front yard, especially if you have plants of yellow, orange, and pink.
Use coral accent pieces to highlight certain areas of a patio or deck. You can even paint a few ceramic or earthen pots and vases and place them amidst the foliage in your lawn to create an artistic and quirky backyard look.
In love with the beauty of colors that define summer? Coral is then your go-to paint color that'll jazz up your walls and home décor. If you're planning a home improvement project this summer, get in touch with a painting company in Kennesaw, like Fillo Painting. Call or text today at (770) 769-7941.