Small spaces can be frustrating. Whether you're trying to work with a cramped home or office, small spaces can make your potential feel limited. They can also make rooms that should be comfortable, feel less inviting.
If you asked a home contractor for assistance, they'd urge you to tear down walls and expand. Thankfully, some solutions aren't so drastic. They involve making some smart, compact decorating choices and, most importantly, tricking the eye.
Did you know that certain colors can make rooms look bigger? Commercial and residential painting contractors recommend these paint colors for small rooms.
Farrow & Ball Calamine
This paint color is a neutral feminine shade of beige with strong hints of pink. It pairs well with dark and neutral-toned furniture and is commonly used in dining rooms, kitchens, and offices. This bright shade fulfills a well-known illusion; bright colors absorb light, making the room appear bigger. This means that the walls will look further away than they actually are. Painting contractors use this trick all the time to make rooms feel larger.
For best results, apply light-colored paint with an ultra-high-gloss finish. The shimmering of light on the surface will make a small room feel huge.
Behr Back to Nature
This new color from Behr is energetic and sophisticated and livens up the room. This mature yellow-green is their 2020 color of the year. Based on succulent leaves and bright mornings, this paint color is sure to add energy to small homes or offices.
While bright colors make small rooms feel larger, most home interior painting experts recommend against bland neutrals like white or beige. Instead, use bold light colors to give your small space more allure and inviting ambiance. Back to Nature is just eye-catching enough to enlarge a room without being too bright.
Sherwin-Williams After the Rain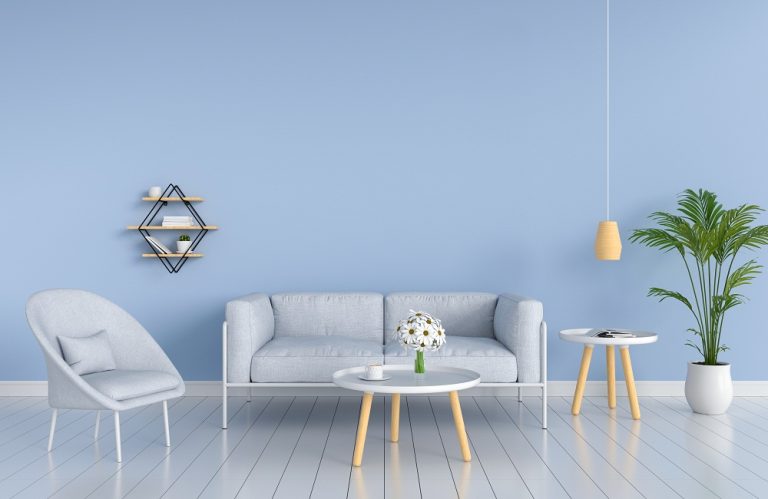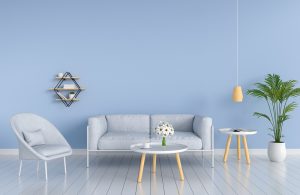 A light and positive blue that's just creamy enough to feel sophisticated, this light color will definitely recede from the eye and make any room look larger. It's comfortable and inviting, with just enough bright energy to make offices feel more productive, and homes feel more entertaining.
Light blues are great choices to enlarge rooms because they match with nearly every other color under the sun. When paired with light grays, hints of black, and natural wooden tones, your rooms will feel much more functional again, no matter how limited the square footage initially made you feel.
Benjamin Moore Blueberry
This is an odd choice, but it works. This deep, intense blue has hints of gray and certainly catches the eye. And while there may have been recommendations above to keep your colors bright and expansive, this dark and intense color actually provides an alternative.
If you paint your walls a darker color and decorate with only very light, neutral furniture, this tricks the eye into thinking the room is larger and better-lit than it really is. If you have a small room with bright furniture, try Blueberry for a bold color choice that creates a fun and functional illusion.
Do you want the best possible paint job? Make sure you leave the painting to professional painting services. Fillo Painting is the best home painting company in Atlanta.