Your home's front entryway is your opportunity to make a great first impression not just on guests, but on yourself. A well-designed entryway gives you the calming feeling of arriving at home, and also impresses your guests with elegant but welcoming style features.
While the exterior of your home is important for making a good first impression, the exterior only offers a clue to what's inside. Your entryway, foyer, or front hall is a first look into your private abode. And while every room of your home should look its best, interior painting professionals recommend that you give extra thought to how you style your entryway.
The following are some tips to help homeowners select beautiful paint colors for their front entryway.
Set the Tone
Just as the first chapter of a book sets the tone for what follows, your entryway should be styled in a way that sets the tone for your home. Essentially, you're using paint color to explain your personality to all who visit. What does this room say about the rest of your home? Cool and relaxing colors like a light green-gray instill a sense of comfort and calm. Bright lilac gives off a personality of youth and eccentricity. A clean and simple neutral like tan or white, meanwhile, exudes classic elegance.
Make an Impression
There's an alternative way to style your entryway to leave an impact. While you could set the tone with color, you could choose to prioritize decor. Design your entryway with beautiful furnishings, like a well-curated sideboard and bench. Then, hang your favorite art on the walls. This helps visitors understand who you are and what you appreciate. And when you return home, you'll be greeted by some of your favorite objects. If you want your favorite possessions like wall art to stand out, paint your walls a simple neutral color–something that won't clutter the experience and create panic. The goal is to use color as a complementary, clean backdrop.
Design Rules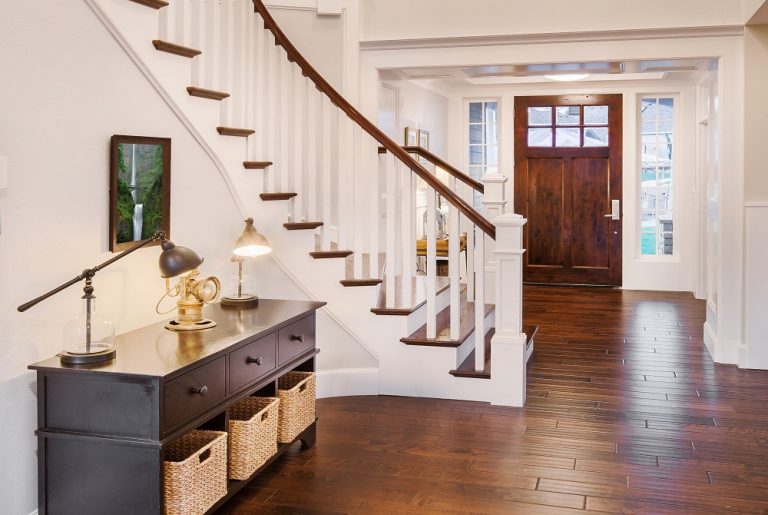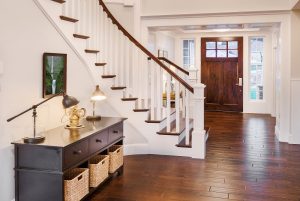 There are a few design rules that you should follow when choosing interior wall paint for your entryway. First, remember the impact of color on size. Darker colors proceed toward the viewer, making a room feel smaller, while light colors recede from the eye and make a room feel larger. While the latter sounds like the universal best option–giving your front entryway a sense of impressive scale, choosing darker colors actually has a purpose. Entering a dark foyer that feels comfortably small can give an immediate sense of shelter. Like taking shelter under a shady tree, walking into a dark foyer can make you feel comfortable and at ease, especially if you live somewhere with plentiful hot, sunny days.
Also, make sure that your entryway color flows nicely with the wall paint in other rooms. Most rooms are designed so that at least two other rooms or walkways are accessible from the foyer, so you'll see your choice of entryway paint when you're in other rooms of your home, too. Make sure that they don't clash. Are you committed to a bold change in your entryway? Interior painting contractors can also help you repaint your den, stairway, and other areas visible from this front room.
A Better Paint Job
The best way to make an impact on your entryway is to work with a residential painting contractor. Fillo Painting Contractors offers high-quality, long-lasting residential painting services. Call us today to find out why we're the most reliable and trusted source for residential painting in Kennesaw, GA.