Why not make 2019 the year you take your bedrooms from drab to dramatic? Whether you prefer simple yet sophisticated, or playful but elegant, you'll love these color schemes designed especially for bedrooms. Explore the possibilities here.
Create the Perfect Backdrop
If you're feeling the need for a little less chaos and a little more Zen, turn to the simple sophistication of a gray color scheme. This year there's a quiet retreat back to the home as a place of serenity and calm. People yearn for a haven where they can escape from the noise of the day-to-day hustle. Gray is the ideal backdrop for nearly any design style or décor. Create a soft and calming environment when you pair shades of gray with stormy blues. Calming but not boring. For a pop of color, spread a goldenrod yellow comforter on the bed.
Get Down to Earth
If woodsy hues that make you feel connected to nature appeal to your senses, you'll love the trend of earthy shades making a comeback in 2019. Earthy colors come in both warm and cool palettes. For a warm look, choose taupe. Mossy green, birch, and river rock all belong in a warm, nature-inspired bedroom. Earthy can also be soft and romantic. A cool earthy color scheme is built on misty grays with lavender accents. When you use darker hues such as forest green, brighten up the room with lighter colors. Use white in shelving, window treatments, and lighting fixtures.
Shades of Blue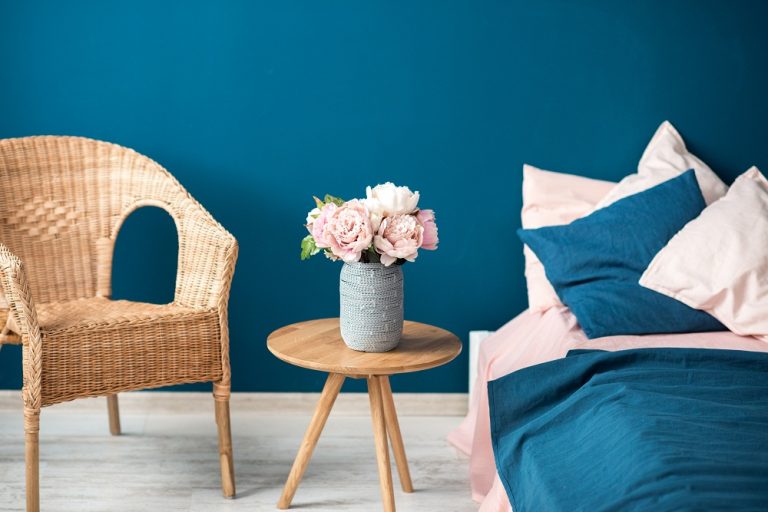 Blue remains one of the most popular colors for bedrooms, probably due to its relaxing qualities. If you're thinking you need more peaceful nights this year, blue is your color. One option for incorporating blue into your color scheme is with slate blue. Accented with a bright white ceiling and crown molding, you'll enjoy the calming effect of blue but still make use of natural light. If your walls are already blue, try layering with lighter hues of blue and cream. Add a few accent pieces in those shades and create an atmosphere of serenity in the bedroom. If you're having trouble deciding which blue, talk with your painting contractor in Roswell, GA, and ask for advice.
Playful and Elegant Purple
Most bedrooms use low light since it helps us wind down and rest. Choosing warm undertones like dark purple sets the atmosphere for relaxation. Purple is all about rich dramatic tones. Instead of sticking with one shade of purple, use three, ranging from a light lavender to a deep plum. If you're shy about covering every wall with so much drama, use purple on an accent wall, and choose powder gray for the rest of the room. Purple is a strong color, and a little goes a long way!
Pretty in Pink
Remember when you dreamed of a pink bedroom? You just knew if you could paint the walls pink and get a pink spread for your canopy bed, you'd feel just like a princess. Don't let being a grown up make you give up your dream of a pink boudoir. Now that you're grown you'll want to make sure you select the right pink. Instead of rolling out pink paint on the walls, opt for using pink in moderation. Choose lush shades of beige for the walls with white ceiling and trim. Your local painting company can help by painting a few samples on a wall so that you can see the effect. Use pink as accents. Consider feminine pink linens and throw pillows. Finish off this color scheme with elegant lighting and mirrors.
Summer is the perfect time to update your bedrooms. Contact Fillo Painting today so we can schedule your painting project.