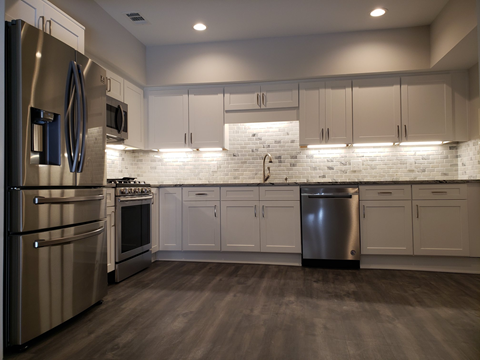 Caulking is an important part of the painting process whether you're painting your interior or exterior. It's recommended to go through your project space before painting whether you're needed to correct areas for aesthetic purposes or functional purposes.
Purpose of Caulk
Caulk can be used on all types of surfaces from drywall to concrete to brick and metals. This is a material that helps seal gaps from drafts and moisture. It is also used to create a smooth surface to work on because it blends seamlessly onto the area.
Types of Caulk
There are tons of brands out there that make and sell caulk. However, there are generally only two categories when it comes to caulking and they are adhesives and sealants. Adhesives are used to bond one surface to another, and sealants are used to fill cracks and gaps between materials to keep out air and water. Sealants are also great for creating a smooth finish on the project.
Latex/Acrylic Caulk. This is the most common caulk, also known as "painter's caulk" and is inexpensive, widely available, and easy to work with.
Acrylic Caulk with Silicone. This caulk includes silicone which makes the product more flexible and long-lasting. It is ideal for interior painting.
Premium Sealants. High performance sealants include additives that make them more flexible. These have all sorts of applications so be sure to check the label before grabbing one.
Silicone. This is most often used for kitchens and bathrooms around areas that are exposed to plenty of water like tubs or sinks and on exterior doors and windows. It is a good waterproof option.
Exterior Caulking
Exterior caulking is an important step before painting the outside of your house. Caulking the home before you get started helps to seal off any holes where water could enter the house. Keeping moisture out of these holes is vital for protecting your home and the wood from rotting or rusting. Caulk can also cover up any areas where bugs could enter. When caulking your home make sure to go over any nail head holes, fascia seams, doors and window frames, and stucco cracks.
Interior Caulking
Interior caulking is done for similar reasons as exterior caulking. It helps to fill in any gaps and joints that may have appeared throughout the life of the house.  Caulk that is applied over baseboards, trim, and moldings will help make the paint look better and give the area a more uniform and professional look overall.
Looking for some professional interior or exterior painting help in Marietta, Georgia? Contact Fillo Painting at (770) 769-7941 today.